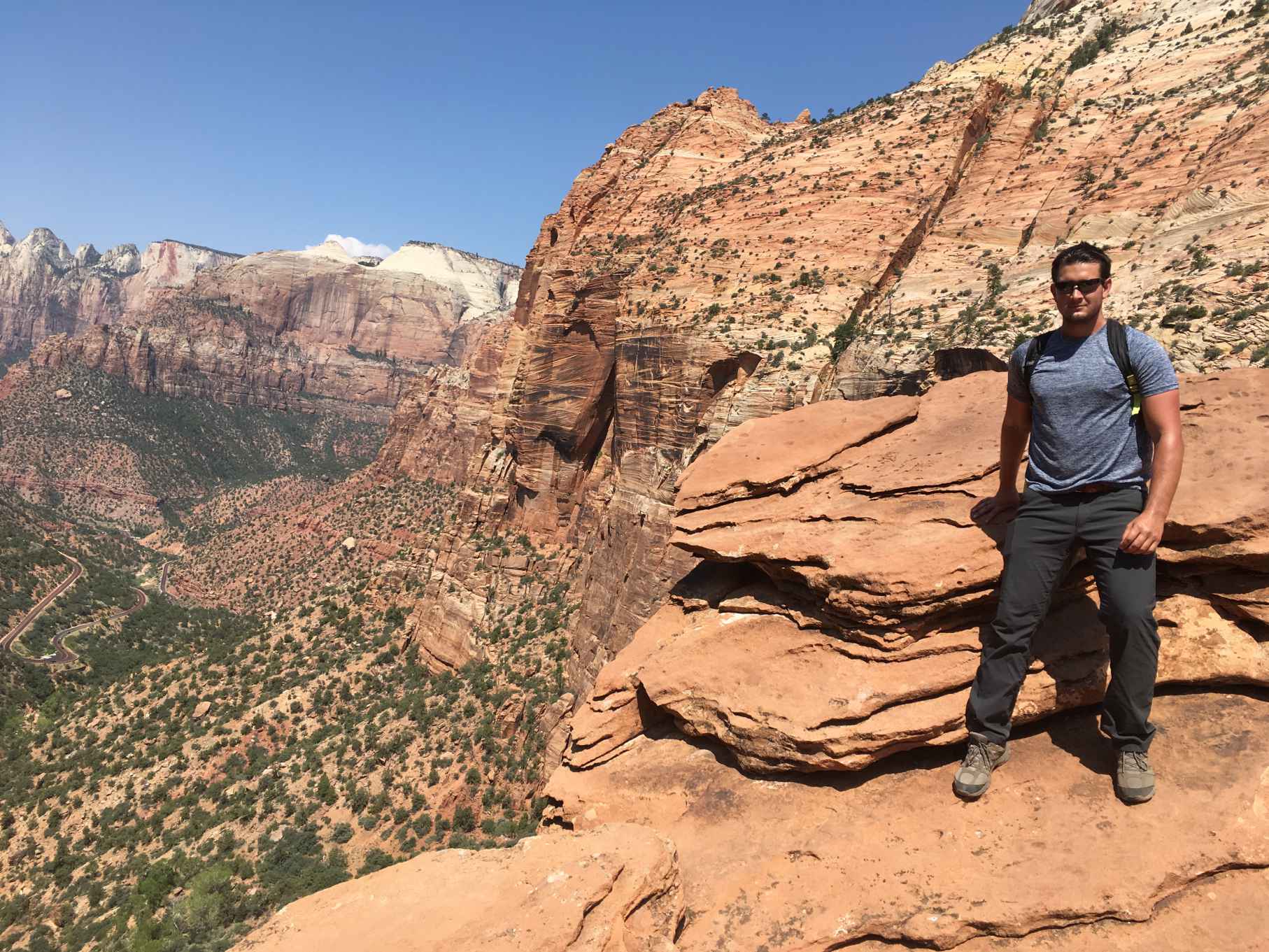 In December of 2014, I took a trip to Costa Rica for several weeks. After this trip I could not get traveling off of my mind. In June of 2015 Alexander and I quit our jobs and started a backpacking trip through Western Europe, Eastern Europe and India. After this trip I once again returned to the US to work, but the desire to travel continued for me. I quit my job once again and Alex and I decided to start Two Guys Touring to share our passion for travel with others.
       Some of the highlights from my travels include bungee jumping in the mountains in Romania, riding motorcycles through Laos, hiking in the Himalayas and touring Chernobyl. I am an avid hiker and many of my travels are based around hiking in different mountain ranges in different countries. I also enjoy living in different countries to study languages. I previously lived in Ukraine, where I studied Russian and I lived in Poland where I studied Polish.
       In 2011, a summer cycling trip peddling 4,000 miles from Providence, Rhode Island to Seattle, Washington with 31 other people changed everything for me. My eyes were opened to traveling, and I have continued to travel over the past seven years. Some of my travel highlights include traveling throughout Europe for six months (with Jackson), as well as working and traveling for almost two years in Australia and New Zealand, where I bought old vans and converted them into campers to drive throughout each country.
       One of my favorite activities when traveling is hiking; two of my most memorable experiences were hiking down and up the Grand Canyon to the Colorado River and hiking the Tongariro Crossing in New Zealand, passing "Mount Doom" from The Lord of the Rings. I love trying local cuisine in every country. Two of the strangest things I have eaten on my travels are pig's ears in Spain and tripe soup in Bulgaria! My favorite countries I have visited are Bulgaria, Slovenia, Ireland, Scotland, Australia, New Zealand, Laos, Vietnam, and India.
       Many tour companies specialize in a region or a type of travel, but at Two Guys Touring we specialize in personalization and customization. The routes that we suggest on our website are countries that we, the co-founders, have personally traveled.
       However, we will take you anywhere that you dream of traveling. Before your airplane lands, we will have chosen a unique route based on your interest, and everything, from hotels to restaurants and attractions, will be handpicked.
       We understand that your vacation is important to you, and we want to take you on an unforgettable journey that will encourage you to immerse yourself in the local lifestyle and culture.
      As a small tour company, you will be able to put faces to both of our names, and it will be our pleasure to make sure that your trip goes smoothly. We want to make your travel experiences as magnificent as ours have been.
       We are not just owners of a tour company, we are also truly passionate, avid travelers who want to share our passion with you, our customers. Let us take you on a journey that you will not forget.
       We are currently offering tours of New Zealand, Ireland, Northern Ireland, Scotland, Austria / Germany, Croatia, and Slovenia. We will continue to add countries in the future and see our "Future Countries" page for our future planned routes.